Cerec - Same-day Dentistry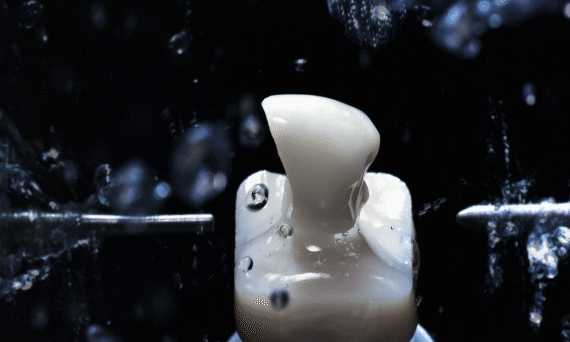 CEREC dental technology eliminates the need for any messy impressions
With CEREC technology, patients get permanent crowns on the same day as they wait
CEREC crowns offer natural-looking results and a perfect fit with their current teeth
CEREC is a one-day appointment process 
CEREC restorations are sturdy and resist abrasion, making them more durable
Getting CEREC restorations is a pain-free and affordable process
CEREC Same Day Restorations – When Time Is Important
A CEREC same-day restoration is a custom-made porcelain restoration that is created and placed in one visit. With CEREC technology, your dentist can create a high-quality custom dental crown right in our office during your appointment. This eliminates the need for a temporary restoration and a second appointment because the permanent restoration, like a crown, can be made and placed on the same day.
How Is A CEREC Same-Day Restoration Completed?
The CEREC system can design, scan, mill and create your customized ceramic inlay, onlay, or crown within a single appointment! Traditional techniques for creating porcelain restorations are tedious and time-consuming because they require multiple appointments, messy impressions, and concentrated time in the lab. CEREC eliminates the wait between designing your restoration and seeing the finished product. At your appointment, we will take digital impressions of your teeth, which will then be uploaded to the computer for our CAD/CAM software to design the restoration. Once we've designed your restoration, it will be milled from a single block of premium-grade ceramic using our state-of-the-art milling machine. Finally, your custom-made restoration will be permanently bonded to your tooth and polished for a completely natural look and feel. The entire process can be completed within just a few hours. Because CEREC is able to create a single restoration in one visit, you save time by eliminating the need to schedule additional visits to get your dentistry done. 
Contact Us For CEREC Same-Day Restoration!
There are a number of benefits associated with utilizing CEREC same-day dentistry. Because the procedure is non-invasive, patients do not need to worry about experiencing any pain during or after the procedure. Additionally, there is no wait time between preparing the restoration and having it placed in the mouth, so patients can experience the benefits of having their smile restored quickly. Finally, digital imaging can help to ensure the right color, shape, and size of the teeth are being chosen before the procedure begins. This can help to ensure the best possible results. If you are interested in scheduling an appointment with your cosmetic dentist to learn more about CEREC and how it can benefit you, call our dental office today! We are happy to answer any of your questions and to help you or your family members with all of your oral health care needs.
Frequently Asked Questions
Financing Options At Bishop Family Dental
Avail quality dental care affordably and conveniently
We accept payments as cash, checks, or cards
We accept all major dental insurance at our dental office
We offer CareCredit financing and membership discount plans to make our dental services affordable to our patients.